By Susan Rose:
Last year when we published our first article on Uber, the media (outside our industry) was almost unanimously positive about the smartphone app.  Back then I said it was going to take a person or people getting hurt—or worse, killed—to really thrust Uber into the regulators' crosshairs. Sadly, it did happen, and now Uber is currently facing some serious questions.
My prediction came true simply because of the laws of nature. After all, why are taxis and limousines so heavily regulated in the first place? It's for the same reason that California will require a fifth door on a limousine—passenger safety was called into question. Fight it, and you run the risk of excoriation from a safety-sensitive public. Uber is starting to feel some of that pressure for the first time.
It's probably become part of your conversation as well. Just to be clear, Uber offers several levels of service: Black, SUV, UberX, and Taxi. Black and SUV are meant to act like upscale taxi services, but are the two that compete most directly with our industry. Uber Taxi and UberX, its lower-cost ridesharing service, are in far fewer cities than the first two, but drivers use their personal vehicles and are less regulated than any of the apps. Other companies like Lyft and Sidecar compete for rideshares as well.
It's important to note that while Uber may be in the spotlight due to the New Year's Eve pedestrian death, the majority of the regulators have shifted their attention away from services like Uber Black to ridesharing apps like UberX, Lyft, and Sidecar. While our industry hasn't let up on the fight, it's clear that the focus has been redirected to the more contentious, less insured, and woefully unregulated rideshares.
Where Are We Now?
Trevor Johnson, director of The San Francisco Cab Drivers Association probably said it best in The New York Times: "Uber may be the next Amazon, but Amazon doesn't have the same potential capability to leave a trail of bodies in the street." Johnson is, of course, referring to the death of 6-year-old Sofia Liu who was hit in a San Francisco crosswalk by Uber "freelancer" Syed Muzaffar on New Year's Eve. The driver was promptly removed from active service with Uber and the company distanced itself immediately from the case. The problem is, the California Public Utilities Commission created a new category for these apps called "transportation network companies" or TNCs. Uber and others were required to comply within 45 days of the September ruling, which included $1 million insurance policies on drivers, background checks with fingerprinting, and thorough vehicle inspections. Uber is fighting the classification and has vowed to fight any responsibility in the wrongful death lawsuit as well. Sadly, after Liu's death (and injuries to some family members), it was reported that Muzaffar had a record of reckless driving in Florida. It later was revealed that Uber was lax on conducting background checks, especially through the tougher Live Scan fingerprint checks that are also run through FBI databases for a more thorough and up-to-date record. In January, Uber extended its background check nationwide.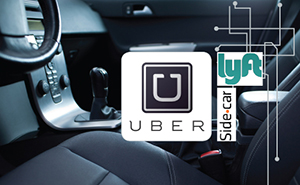 See a full list of international cities and the latest information here: chauffeurdriven.com/apps
Matthew Daus, president of the International Association of Transportation Regulators (IATR) and former head of the NYC Taxi and Limousine Commission, has some theories about where things are heading with Uber. With Google as one of its biggest investors (through Google Ventures), Daus says that it's all about collecting data, which the massive search engine/all-around technology giant craves. "Google wants the data, while Uber wants to sneak in and deregulate the industry so that it can get its [initial public offering]. Once that happens, they'll turn around and say, 'Of course we need regulation.' That will lead to increased prices." That would mean driving some out of the industry altogether while possibly devaluing the pricey taxi medallions. (Others speculate that the Uber-Google relationship will lead to a platform for autonomous vehicles, which Google is investing in.)
That IPO could mean big—and I do mean BIG—paper. If you live in or around Silicon Valley, you already know that Uber is the hottest thing going. The investors just keep piling on, so there are high hopes for the company's upward trajectory. Uber's most current valuation is $3.5 billion (yes, with a "b"), but there are many who feel that is highly undervalued. Some estimates say Uber could be $100 billion within 5 years. An IPO would keep the cash following.
Big money and flashy, one-percenter names attached to Uber could have bigger consequences than just an endless pool of marketing dollars and expensive lobbyists. This means that regulators and politicians could be having a harder time standing up to the app. When your position relies on donors who have deep pockets, combined with an intense public love for the service, it becomes very difficult to say no. The taxi industry isn't immune to this type of politicking, but there's a new game in town and there's more money than ever at stake. And for the record, we are not suggesting nefarious backroom deals are taking place (like Uber does in the next paragraph), but we're also not stupid. Money and politics are the oldest friends in the world.
Uber has clearly joined the "if you can't beat them, join them" club. For example, Uber's Corey Owens blogged about his experience in Portland last summer in a post called "On Consumers, Competition & Collusion." The blog read: [L]ast week I testified before the Portland Private-for-Hire Transportation Board of Review, which regulates taxis and limousines in the Rose City. I was asking this official government body to do away with rules that force sedans to wait 60 minutes before picking up the requesting passenger, that explicitly prohibit the use of cost-effective vehicles, and that artificially inflate prices for sedan transportation. I was requesting these changes of a regulatory body made up of taxi companies and their allies. The marriage between government and industry in Portland is hardly the only example. In Dallas, Yellow Taxi's lawyer worked with city officials to organize a fruitless sting against Uber. In Colorado, Public Utilities Commission staff proposed anti-Uber regulations after a local taxi lobbyist wrote to them pleading for 'rules changes' to address the Uber 'issue.' In Missouri, the chairman of the Metropolitan St. Louis Taxicab Commission is a lobbyist who walks the halls of state government on behalf of the Commission, which is primarily made up of—you guessed it—taxi companies. This is regulation by the taxi industry for the taxi industry. Consumers' interests are getting bulldozed by lobbyists, campaign contributions, and cronyism run amok."
read the entire article at Chauffeur Driven: